At Plover school, we believe that a quality English curriculum, should foster our children's love of reading and writing
One of our priorities is that, by the time children leave our school, they should have mastered the five components of reading: phonemic awareness, phonics, fluency, vocabulary and comprehension.
Our intention is to provide an English curriculum that is Expedition driven and that develops reading, writing and language skills to enable all children make a clear progression as they move through school.
Not only do we prioritise the skills of reading, we also believe that children should develop a love of reading for pleasure and we intend to provide the resources and experiences to spark an enthusiasm for reading.
Early Reading at Plover
At Plover we use a systematic approach to teaching phonics, using Read Write Inc programme from EYFS through to KS1 and as part of our continuation programme through KS2.
Click the link to read more:
https://sites.google.com/ploverschool.co.uk/earlyreadingandphonics/home
Planning English Lessons in KS1 & 2
In KS1 and KS2, English at Plover is planned according to the English cycle. In addition to phonics and speedy reading, the cycle also incorporates expeditionary linked reading instruction. To support this, staff have had CPD on the teaching of reading. The English cycle is a three week cycle of lessons that ensures a broad and balanced approach to teaching the necessary skills in English.
English is driven by Expedition and each expedition has a core text/ texts related to the expeditionary learning. As part of the planning process, staff incorporate a range of authors and text types. This is overseen by the English Lead. Reading in English lessons should also support expedition learning by incorporating non-fiction texts as well as fiction.
The English cycle is designed so that children have the opportunity to read and work with a text and then use the text to produce written work. Therefore reading and writing tasks are interlinked.
Reading in KS2
In Key Stage 2, all children who have met age appropriate standards have a timetabled daily hour of reading, which consists of 'Speedy Reading' and Accelerated Reader.
Reading Rubrics have been designed to support staff with the ongoing planning and assessing of reading. It is used to continually assess progress in the different reading skills and to ensure that plan to teach reading, developing the full range of skills, such as inference, prediction and summarising etc, as well as retrieval skills.
Reading fluency and comprehension is practised daily in class through the use of 'Speedy Reading'. A short appropriate text is studied throughout the week with a different reading focus each day – Day 1 = Vocabulary; Day 2 = Retrieval; Day 3 = Inference; Day 4 = Comprehension Practice. The text is mostly linked to the current expedition, but gives the teacher an opportunity to share a wider variety of genres with the children. Speedy Reading develops reading fluency and comprehension skills through careful teacher modelling, opportunities to hear and practice high-quality reading aloud, explicit teaching strategies to support reading comprehension such as for inference, prediction, summarising, activating prior knowledge and questioning.
At the end of every reading cycle, children complete an unseen reading comprehension progress test, to practise the reading comprehension skills.
Accelerated Reader
Accelerated Reader is used in KS2 on a daily basis. The STAR reader test is used termly to assess reading levels and allocated book levels.
Children select books from their reading range and complete quizzes on the books once they have read them. Children have reading targets to encourage them to complete quizzes and they are rewarded by class teachers.
All children in KS2 have a daily 25 minute AR session, to enable children to read independently and then quiz on the books. In addition to this, children take their AR reading book home each day for home reading.
Accelerated Reader is available to KS1 children that have completed the phonics decodable scheme and are ready to progress.
Crew Leaders use the data from the weekly AR summary report to facilitate children setting their weekly reading targets during Time to read Tuesday Crew.
Catch Up Reading
Following an assessment, children in KS2 who are not achieving the required standard in phonics are identified for Read Write Inc phonics intervention. They attend a teacher or teaching assistant led levelled group session for one hour a day three times a week and thirty minutes twice a week. During this time they follow the RWI phonics programme sequence incorporating the teaching of sounds, words and developing reading and writing. Some children also have 1:1 tuition to support them in their phonics development.
Promoting Reading for Pleasure
Books are a prominent feature across all phases and every classroom and shared area has book displays linked to the expedition.
The school has worked with 'Doncaster Stories' (funded by the National Literacy Trust.) As a result of the school's involvement with this Doncaster charity, children take part in author talks, book drops, workshops and events. There have been book linked workshops and funding has been secured to improve the school library facilities.
Recently, Plover School has been invited to take part in the first Doncaster 'DIP DAP" book awards, to celebrate authors and illustrators of newly published books. We currently have a group of Year 5 pupils who are reading and reviewing the books and who will attend the final award ceremony in Spring 2024.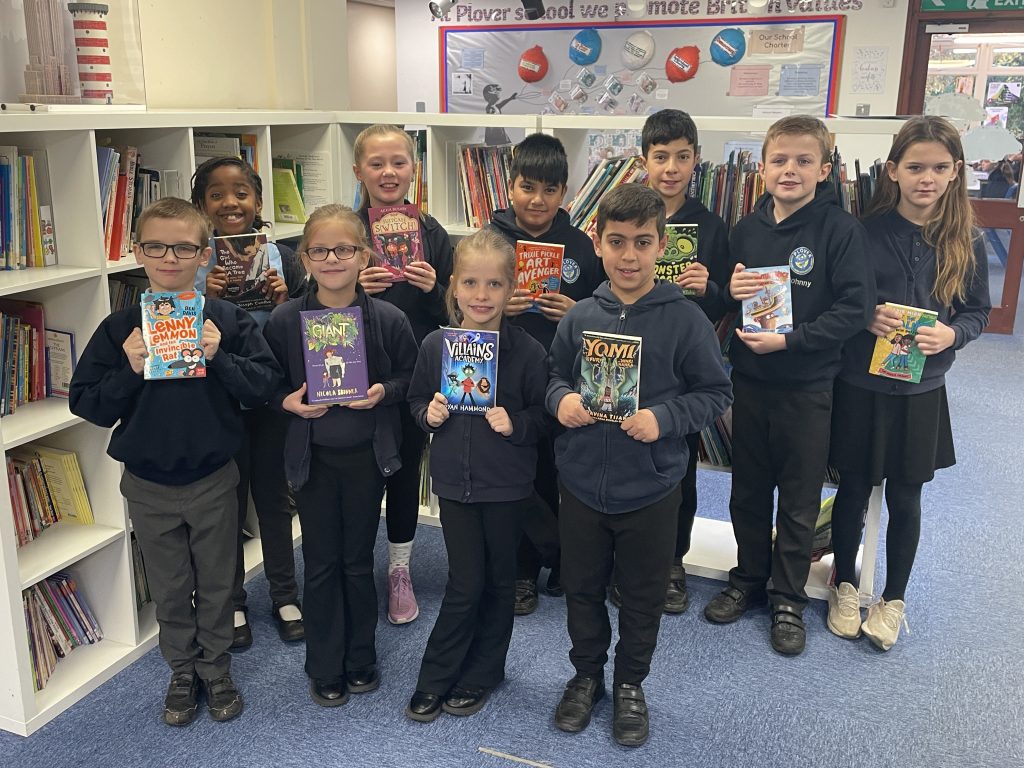 We also take part in the annual World Book day event and Pyjamarama to promote the reading of books. Last year we ran competitions and review writing, as well as 'the Masked Reader' event.
Other competitions take place throughout the year to promote reading and writing including: handwriting competitions; read aloud competitions and Accelerated Reader competitions and reading is celebrated weekly in Community Crew sessions.
At the end of the day, before crew, time is allocated for class teachers to share a story with their class. This is a time for the class to enjoy a book together and to experience the real pleasure of reading.